Posted by Elsworth on Friday, Jun 26, 2020
Things are happening at ICPL!  While our doors remain closed to the public, our building is buzzing with socially distanced, masked staff ordering and preparing new materials for check out, moving furniture, getting meeting rooms ready to use as a technology access area, and tackling other tasks.  We are thankful our community continues to use library services while the building is closed.  We hear from you via phone and chat reference services, see your faces during remote programming, and pass you your materials at curbside pickup.  We truly appreciate your patience and flexibility!     
Curbside pickup is going well.  More than 1,010 patrons have used curbside pickup and collectively checked out more than 5,225 items (this includes items delivered by postal mail) since we began the service on June 4th.  We opened the remote book drops and are actively planning our next service: technology access in the lobby meeting rooms.
Planning for reopening during the pandemic has been challenging.  Quickly shifting information, organizations offering conflicting suggestions, and no clear benchmarks to hold onto make providing specifics hard.  ICPL's reopening plan reflects our focus on safety which we have maintained since closing our doors in March.  We are pleased to share our reopening plan here.  Arranged in phases, the plan is designed to allow the reintroduction of our services in a way that may be dialed forward or back to respond to this quickly changing environment.  These phases are indicative of the information we have now, but may change as we our planning continues.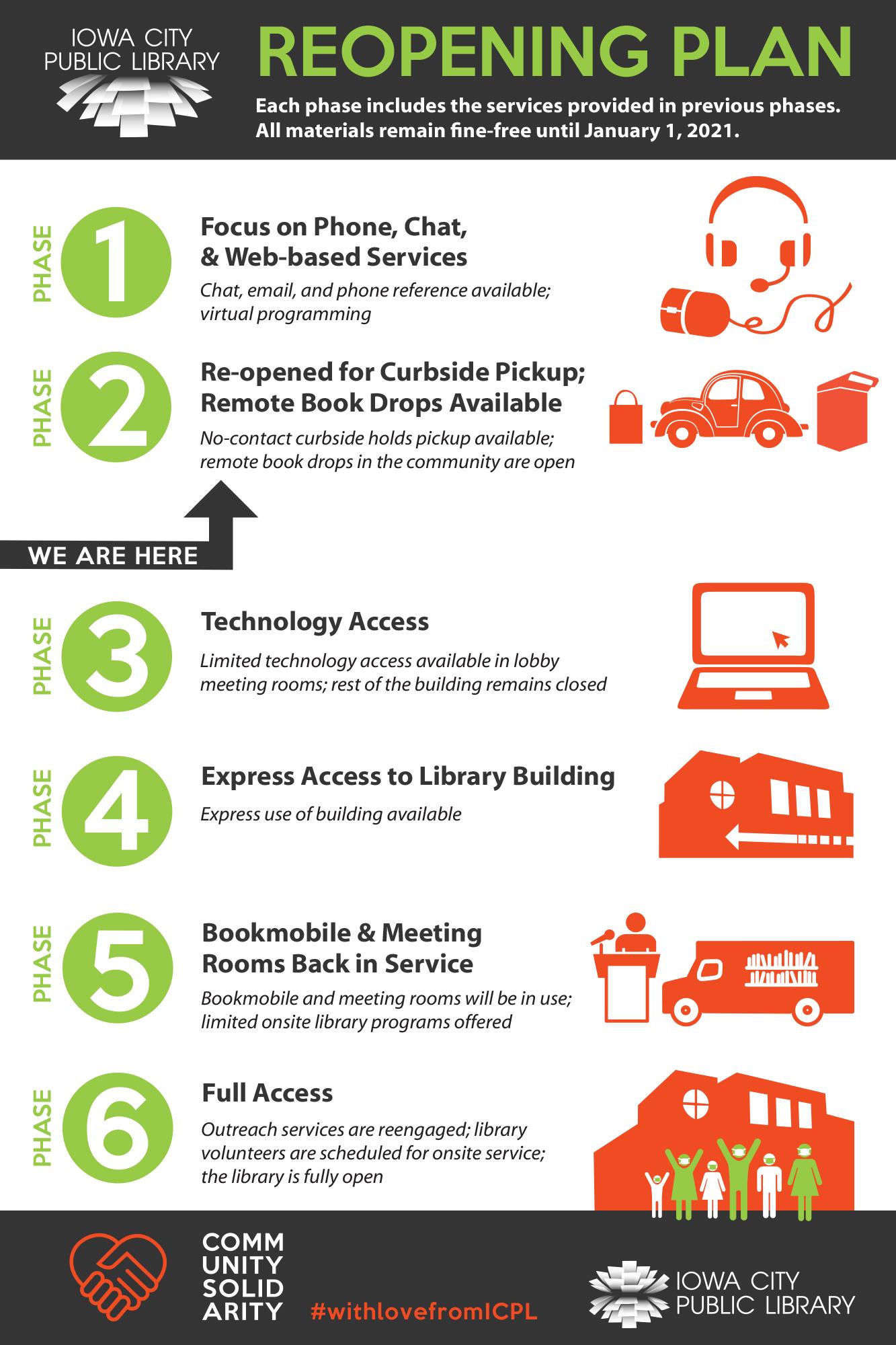 We will update the community through social media, our website, and print communication as we move through the phases of this plan.  As always, I would love to hear from you with questions or comments; please feel welcome to contact me.
With thanks,
Elsworth Carman